Frequently Asked Questions
New info posted : July 2nd 2018
ONLINE SALES END Friday July 6th
Will-Call Window will be at North Gate (by the Roundabout)
AT THE GATE SALES are CASH ONLY -- An ATM will Be at the MAIN GATE(North gate, at Roundabout) on SATURDAY JULY 7th ONLY!!!!!!!
We apologize for the inconvenience, but we have not quite mastered credit card transactions by smoke signal!!!
As of June 2018 VIP and Reserved Seating are SOLD OUT! Thank you!
CHILDREN Ages 6-12 Tickets are $30 in Advance / $35 at the Gate
CHILDREN under 5 are FREE
Cost for SINGLE EVENTS is $10 these events are the COMEDY SHOW ( 21yrs and above), the RODEO, and the BARN DANCE.....Please NOTE: the CLINT BLACK and REDHEAD EXPRESS concert tickets are $40 in advance and $45 at the gate
VIP Ticket holders may pickup their wrist bands at the WILL CALL booth at the North Gate (round-about).
You may bring Chairs, however coolers are prohibited.
PLEASE NOTE: Colorado weather is special, and while we do have requests in with the "Man Upstairs", we must state that wristbands are non-refundable due to inclement weather or unforeseen events.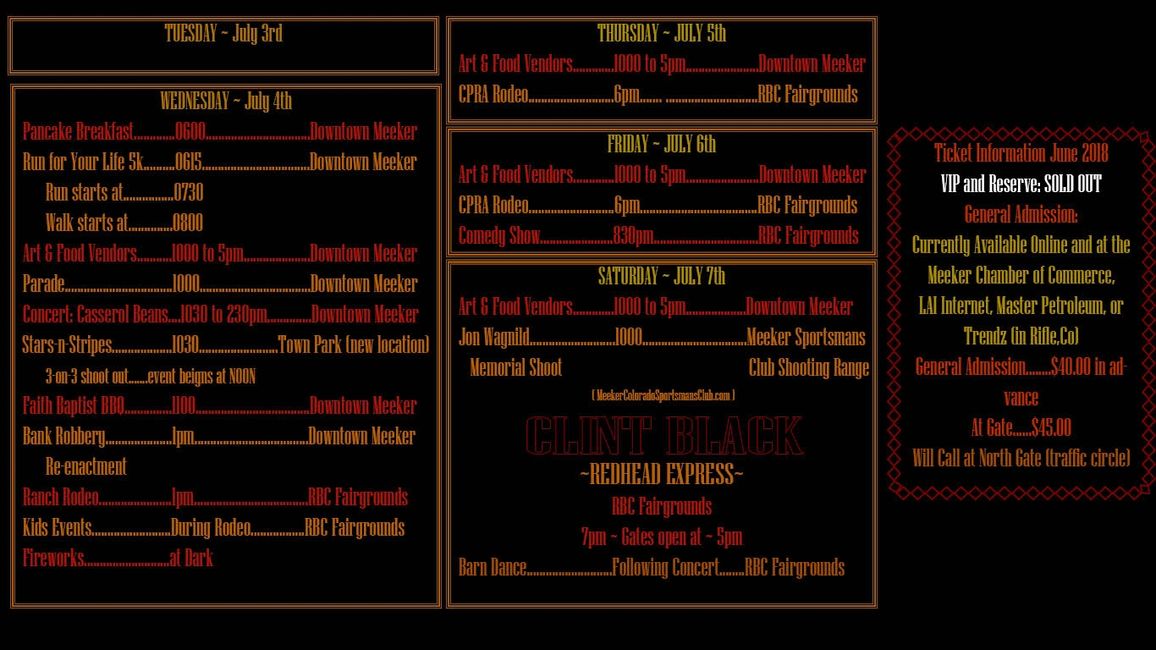 Click Schedule to Enlarge